The Northside Community Garden is located at 400 Caldwell St. in Chapel Hill very close to the border with Carrboro. The garden is no-till, organic and incorporates permaculture principles. The community garden is a project of Orange County Master Gardener Volunteers, and the Extension Office. Individual plots are available for rent to anyone living in the area. An ability garden of six is plots is available for those with limited mobility.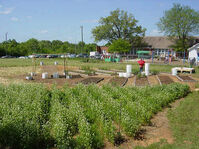 Workdays with a Master Gardener Volunteer present are:  
Most Saturdays, 9-11 AM, Sundays 1-3 PM and Mondays 5-7 PM. Please note there may be somedays when Master Gardeners are not present. 
 
Gardeners may attend their plots at any time.

contact: For information and to volunteer: Greta Lee, email: GML@med.unc.edu
To rent a plot or make a contribution: Orange County Extension Office, 245-2050

Also See:
Carrboro Community Gardening Coalition